Monsters are real, and ghosts are real too. They live inside us, and sometimes, they win.
It's easy to scare people and make them shit in their pants. But somehow, writing a scary story takes a lot of effort because even if fear is the easiest emotion to touch, it is difficult to control the sentence structure that wouldn't mess up the reader's imagination in the middle of reading. It shouldn't be too simple, nor should it be too complicated. Great control over the lines is the most essential element in writing an effective scary story.
One dilemma in writing a scary story is that the topics are most of the times so commonly heard of— in movies, books, and even in the telltales among the localities— that poses a great challenge on the writer how he/she would be able to engage on, and sometimes against if need be, the homogeneity of such stories. Out of so many writers in such a genre, one genius stood out to give the challenge a try. Writing out the words playfully, this genius instills fear through his splendid foretelling with a fashionable sense of twisting to fight off homogeneity.
Stephen King, an American author of horror, supernatural fiction, suspense, and science fiction, was born in Portland, Maine on September 21, 1947. When King was two years old, his father pretended to buy a cigarette and never returned— leaving his mother in raising him and his older brother, David, all by herself. Whatever reason there is, King certainly could care less about it anymore, and with all his achievement, his father might've regretted ever leaving them. King's childhood was spent in Fort Wayne, Indiana and in Stratford, Connecticut; then when he was eleven, her mother brought them back to Durham, Maine for good. After his grandparents' death, his mother found work in the kitchens of Pineland, a nearby residential facility for the mentally challenged.
King graduated from Lisbon Falls High School. He took Bachelor of Arts in English at the University of Maine, and graduated in 1970. He won the heart of Tabitha Spruce, a fellow student at the University of Maine whom he had met at the library. King held a variety of jobs to pay for his studies, including janitor, gas pump attendant, and worker at an industrial laundry. On the same year of his graduation, his daughter Naomi Rachel was born, and he then married Spruce the following year. After leaving university, King earned a certificate to teach high school and was hired as a teacher at Hampden Academy. But while he was on teaching, King spends a lot of his time and effort in writing.
THE GENIUS' LITERARY JOURNEY
When King was young, he witnessed one of his friends being stuck and killed by a train, then he came home seemingly in shock, unable to speak of anything. Some of his avid readers believed that this experience may have been the psychological inspiration for some of his darker works. But it was only fed unto him by his family as King couldn't remember anything about such an event. What he could remember as the primary inspiration for writing his horror fictions was a collection of short stories entitled, The Lurker in the Shadows. "I knew that I'd found home when I read that book," King confessed.
Being an avid reader of EC's horror comics, including Tales from the Crypt added to his enthusiasm on horror genre. In his high school years, he began his literary journey, contributing articles to Dave's Rag, the newspaper his brother, David, published with a mimeograph machine. King began selling to his friend stories that are based on the movies he had seen. Then he was able to independently publish his book entitled, I Was a Teenage Grave Robber, which was serialized over four issues of a fanzine, Comic Review in 1965. The following year, he revised and publish it as In a Half-World of Terror in another fanzine, Stories of Suspense. During his college years, King wrote a column, Steve King's Garbage Truck for the student newspaper, The Maine Campus. He sold his first professional short story, The Glass Floor to Startling Mystery Stories. When he got his certificate to teach, he wasn't immediately able to find a job, so he write for a living— selling short stories to men's magazines such as Cavalier— for which many of these have been republished in the collection Night Shift.
King indeed spent most of his time, writing for a living. What makes it more interesting is the fact that King has been able to work for other projects that his avid readers had not expected. In 1985, King wrote his first work or comic book medium. He joined Marvel's quest along with different renowned authors in creating the benefit X-men comic book, designed to raise awareness about the hunger in Africa. The proceeds from the comic went to the American Friends Service Committee on behalf of African famine, relief and recovery. The book featured an all-star lineup of comic creators and as well as a few notable authors from outside the comic book industry, such as Stephen King, Alan Moore, Stan Lee, and surprisingly George R. R. Martin. The following year, King was invited to write the introduction of Batman no. 400, an anniversary issue in which he expressed his preference for that character over Superman.
CARRIE (1973)
King's first novel, Carrie, went through frustration stage before it was successfully brought out into the spotlight. King admitted having to throw an early draft of the novel into the trash because he was discouraged with his progress in writing about a teenage girl with psychic abilities. The plot seemed to him as something childish rather than unique. The idea wasn't perfect. It has many flaws in it that he'd thought it would attract more dirty jokes and cheap laughs from the readers.
But when his wife learned of it, she retrieved the manuscript and encouraged him to finish it. King gave in to his wife's request and challenged himself once again into the novel. When he finished the entire manuscript with all the sophisticated twists he could put to beautify the novel, it was then accepted and published by the publishing house Doubleday in 1973. His mother died from uterine cancer right after the novel's release on 1974. King's advance on Carrie was $2,500 only, but his paperback rights later earned $400,000.
The novel revolves around a teenage girl, Carrie White, a misfit and bullied high school girl who uses her newly discovered telekinetic powers to exact revenge on those who torment her (including her own mother), which unintentionally caused one of the worst local disasters in American history. The intensity of the plot, which was due to the much darker structure of foretelling, has made it to becoming one of the most frequently banned books in United States schools. Despite such issues, Carrie, didn't seem to lose track on its spotlight, and several adaptations have been released, including the 1976 feature film, a 1988 Broadway musical, a 1999 feature film sequel, and the successful remake in 2013. Although, critics may have pointed out that King forgot to explain how Carrie got his psychic ability, the author was confident enough to insist that the story wasn't all about the power of the main character. All the more, King noted that the novel was an allegory for feminism, stating:
Carrie is largely about how women find their own channels of power, and what men fear about women and women's sexuality…which is only to say that, writing the book in 1973… I was fully aware of what Women's Liberation implied… The book is…an uneasy masculine shrinking from a future of female equality. For me, Carrie White is a sadly misused teenager, an example of the sort of person whose spirit is so often broken for good in that pit of man- and woman-eaters that is your normal suburban high school. But she's also Woman, feeling her powers for the first time and, like Samson, pulling down the temple on everyone in sight… Carrie uses her "wild talent" to pull down the whole rotten society.
As it turned out, it was only after King explained this in his book Danse Macabre that readers have realized such deeper meaning behind the plot of the novel. It was also thanks to King's wife, Tabitha, that the thing about feminism was carefully achieved.
SUCCESSFUL ADAPTATION FOR 2017
While for the record, all of Stephen King's novels were bestsellers, there are a few among them who stood the test of time and made a lot of impression in all types of market, especially in the film industry. One of these few is the most celebrated movie adaptation of the year, IT, which attracted many fans and critics alike.
The novel was set in the fictional town of Derry, Maine, where a malignant monster lurks in the sewers and storm-drains. It opens with a six-year-old George "Georgie" Denbrough, chasing a paper boat down a gutter, during a heavy rainstorm. The paper boat, which he received as a gift from his brother, Bill, is washed down the storm drain. As he peaked into the drain, Georgie was surprised to see a clown, who introduced himself as Pennywise the Dancing Clown. Pennywise enticed Georgie to retrieve his boat from him, severed his arm, and grabbed him into the drain.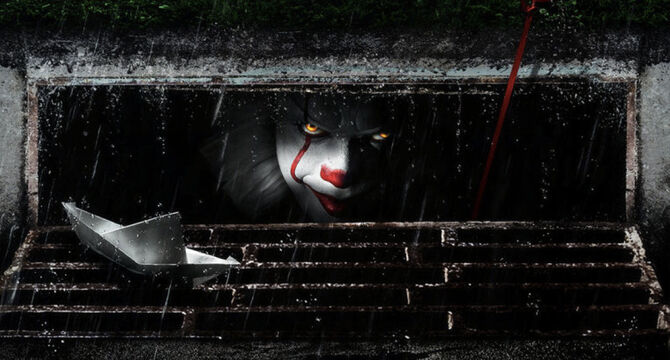 From that opening scene, the story then revolved around Bill Denbrough, the assembly of the seven kids with similar misfits who called their group later on as "The Losers Club", A gang of bullies led by Henry Bowers, and the horrifying tragedies and events done by Pennywise. As the summer draws on, the Losers realized that they have been haunted with a seemingly omniscient, demonic entity that takes the form of whatever they fear the most, though its most prominent form is that of a sadistic, balloon-wielding clown. Not knowing the origin of the monster, the Losers referred to the creature as "It" and link it with a series of recent child murders and disappearances. They met an African-American fellow, Mike, in the Barrens, where they were looking for clues of Georgie's where about. Mike told the Losers that he was attacked by it in the form of a flesh-eating bird and they realized through Mike's picture book that It came to Derry many centuries ago in an asteroid-like impact, awakening every 27 years to feed on children of Derry before returning to hibernation. They also determined that It moves about by using sewer lines— which all led to a well, which is currently under a creepy, abandoned house at 29 Neibolt Street. The Losers confrontation with Pennywise takes you out of your seat.
Will the Losers be able to defeat It? Or will they be defeated by It? For those who haven't read the book or watched the movie, you'll surely miss half of your life. The length of the book, 1,200 pages doesn't really feel long enough, because the plot is certainly captivating, especially as it captures the reader's imagination and their fears. The 2017 movie, as well, has collected many praises which includes that of Stephen King himself.
Comments